Western Association of Schools and Colleges (WASC)

VERSO received accreditation from WASC in June 2021.
The WASC accreditation is designed to help schools improve their programs and support student learning. It provides certification and assurance to the public that the school is a trustworthy institution of learning and that our certificates, transcripts, and diplomas are globally recognized and accepted by universities around the world.
ISAT
VERSO is a member of the International School Association of Thailand (ISAT).
ISAT acts as the unified voice for international education in Thailand and serves and strengthens its membership by articulating and promoting high standards of educational quality, ethical practices and student learning.
THAI STOP COVID certificate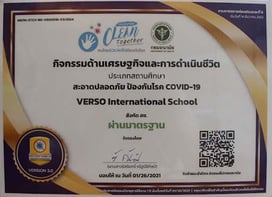 VERSO received the THAI STOP COVID certificate from the Department of Health, Ministry of Public Health in January 2021 for passing the COVID-19 health and preventive protocols.