Our Early Years 4-5 Learning Designers Chandler Audette and Myshi Mackenzie-Baker explain how the EY 4-5 learners were challenged to design a kitchen garden from an unused sandpit. Using design thinking, they went through the various processes to successfully complete and implement their task. The result? A lush kitchen garden at the Lower Loop courtyard.
During our Design for Belonging unit, our young learners explored the concept of community by starting with the first community we all belong to - our families. We then identified the different communities to which the learners belong, and soon they were inspired to connect with their school, local community, and global community. Moving to our next unit, People and Nature, our learners were driven to contribute not only to their community, but also to their environment.
EY4-5 learners brainstorming and ideating on what their new kitchen garden would look like.
The leadership team at VERSO challenged our EY 4-5 learners to repurpose one of the Lower Loop's unused sandpit. When confronted with the task, learners began to define many challenges through questions and discovered potential problems such as:

"Plants can not grow in the sand"
"How can we remove all the sand?
"I do not know how to plant a garden"
"Where will we get the materials?
"Who will water the plants when we are not at school?

During this phase, we contacted an expert, Khun Poi from BlueTwig Garden, who came to our campus to give a gardening workshop to the learners. In this workshop, they gained real-life experience and knowledge that they could apply to their community garden. They learned about the basics of a garden, the materials needed, and what living things need to survive.
Khun Poi from BlueTwig Garden conducted a gardening workshop four our learners
This workshop inspired our learners and they began to ideate, or generate ideas. They started brainstorming about what needed to be done, what materials were needed, and shared ideas about what they wanted to grow. They began prototyping by making designs for their "dream garden." They worked in groups of two and created videos that we sent to the leadership team for approval. Once approved, the learners contacted the facilities and purchasing departments at VERSO and began to dig in!
Learners share their design proposals with the Learning Designers
Khun Noina, our Hub Assistant, led a workshop on different types of plants that can grow in soil or water. Learners were able to experiment with different seeds, such as bean seeds and flower seeds that grow in soil. Then they compared onion bulbs that grow and sprout in water. In this way, learners were able to learn more about what types of plants they could grow in their own gardens. The learners decided to try growing vegetables to cook with later.
Khun Sack (left) and Khun Noina (right) have been a big help tp our EY learners in the building of the kitchen garden
During our final unit on
Taking Responsibility
, we got active and planted seeds for lettuce, morning glory, coriander, and onions. With our knowledge of the needs of these plants, the learners took care of their vegetable patch by watering it regularly and providing shade. With the added help of our Assistant Facilities Manager Khun Sack and his team, who made sure our vegetables were watered on weekends and holidays, it only took a few weeks for our crops to grow!
Learners watch as their vegetables grow
Above and below: Tilling the area for planting after the sandpit area was cleared
During the last week of school, we were lucky enough to harvest our vegetables and make soup out of them.
The entire process of designing our kitchen garden from ideation to prototyping, testing and finally implementing, took six months and if our tummies could talk, they would say that we accomplished our design challenge with flying colors!
Mission Accomplished : The EY4-5 learners with their new kitchen garden
RELATED POSTS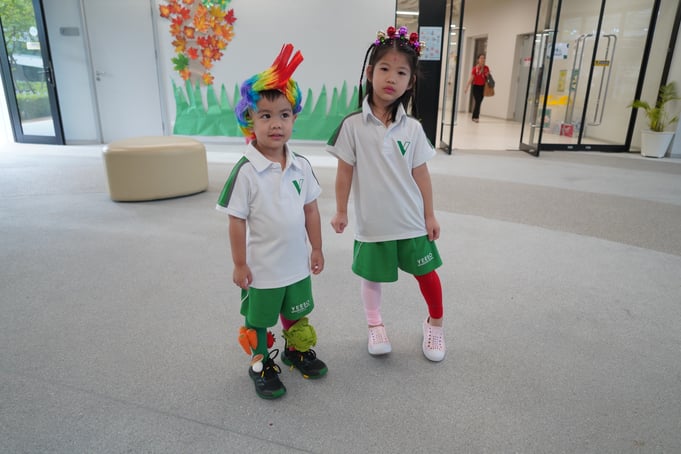 By Cushla Jones / November 17, 2023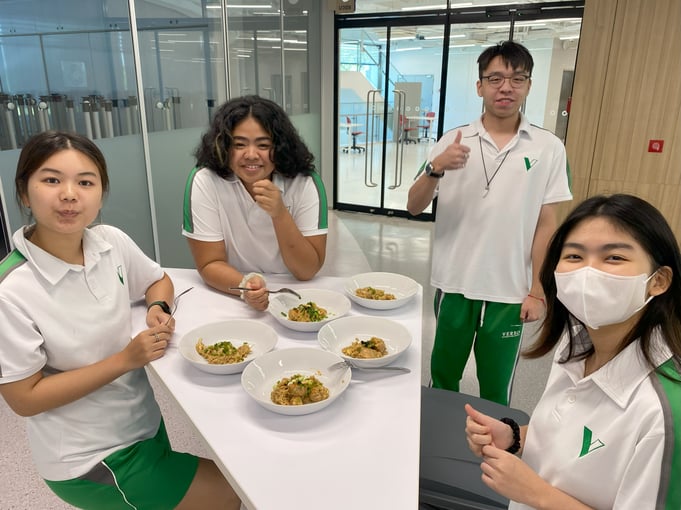 By Jarret Voytilla / November 17, 2023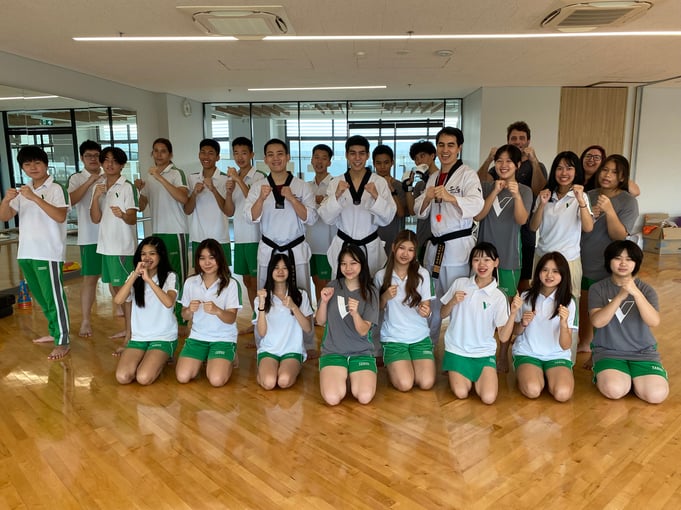 By Jarret Voytilla / November 03, 2023