---
It's hard to believe we are already finishing week 4 of school. Next Friday 8 September, we have our Lower and Middle Loop ConVERSOs.
As it is a full day of ConVERSOs there won't be any classes. In the past we offered a student-led ConVERSO. As a result of fruitful discussions with families and the feedback we've received, the format for this year's ConVERSO will be between parents and LDs only. This provides an opportunity for parents and LDs to share openly and honestly without the child present to engage on a deeper level of listening to concerns, hopes, questions, and strategies.
The purpose of the ConVERSO is to share how your child is settling in, listen to parents, and determine and identify goals for the child to work towards.
As a parent, you are your child's first and most important role model. You and your child's school have something in common: You both want your child to learn and do well. When parents and LDs talk to each other, each person can share important information about their child's talents and needs. Each person can also learn something new about how to help your child. Parent-LD ConVERSOs are a great way to start talking to your child's LD. Below are some tips on ways that you can make the most of Parent-LD ConVERSOs so that everyone wins, especially your child.
What should parents expect?
A two-way conversation. Like all good conversations,

Parent-LD ConVERSOs

are best when both people talk and listen. The conference is a time for you to learn about your child's progress in school: Ask to see data about your child's attendance, grades, and test scores. Find out whether your child is meeting school expectations and academic standards.
Emphasis on learning. Good

Parent-LD ConVERSOs

focus on how well the child is doing in school. They also talk about how the child can do even better.
Opportunities and challenges.

Just like you, LDs want your child to succeed. You will probably hear positive feedback about your child's progress and areas for improvement.
What should you talk to the learning designer about?
Progress.

Find out how your child is doing by asking questions like:
Is my child performing at grade level?
What areas do they need extra support?
What are their strengths in terms of skill?
Projects and assessments.

Ask to see examples of your child's work.
Your thoughts about your child.

Tell the LD what you think your child is good at. Explain what he or she needs more help with.
Support learning at home.

Ask what you can do at home to help your child learn.
How should you follow up?
Make a plan.

Write down the things that you and the LD will each do to support your child. You can do this during the ConVERSO or after. Write down what you will do, when, and how often. Make plans to check in with the teacher in the coming months.
Schedule another time to talk.

Communication should go both ways. Ask how you can contact the LD and don't forget to ask how the LD will contact you too. Be sure to schedule at least one more time to talk in the next few weeks/months.
Talk to your child.

The

Parent-LD ConVERSOs

is all about your child, so don't forget to include him or her. Share with your child what you learned. Show him or her how you will help with learning at home. Ask for his or her suggestions.
ConVERSO Appointments (Face-to-face or Video Call)
You will be meeting with your child's Community Time LD as they are responsible for the home-school partnership, are their mentor, and are the first contact person for pastoral care. It will be a 20-minute ConVERSO that has already been scheduled. We have carefully considered siblings within the ML and across the school. You will see that we have scheduled ConVERSOs that are close together if there is another sibling to optimize time for everyone.
Your child's Community Time LD will be emailing your VERSO email address with a Google calendar invite of the time that has been assigned. If you are able to come to the campus for a face-to-face ConVERSO, please arrive at the meeting at least 5 minutes before your appointment. If you're unable to come in person, please use the Google Meet video link to have a video call with your child's LD. If you do decide to join us at school for a face-to-face ConVERSO and bring your child/ren with you, they are welcome to wait where the ML slide is until your ConVERSO is over. Supervision will be provided during this time. Please check your VERSO emails for confirmation of your child's ConVERSO as these have already been sent out.
If you are unable to attend the face-to-face or Google Meet video call, please let your community time LD know, and we will do our best to reschedule for another time or for another day. If you require Thai or Chinese language translation for your ConVERSO, please let your child's Community Time LD know when you RSVP. The google calendar you receive is your official ConVERSO appointment time.
Headrush Workshop
We will also be offering 3 HeadRush workshops (on how to access and view your child's learning) during the day, led by JC. These will be at 8:20am, 10:00am, and 12:00pm and run for about 20-30 minutes.
Learning Designers available for ConVERSOs
The following Learning Designers will also be available for parents to connect with to have a ConVERSO. These are not scheduled, it is a 'free flow' format and the LDs will be in the ML lounge to meet with you. Feel free to email LDs with your questions and let them know what time you will be coming by.
From 7:00am - 1:00pm
Pattawan: Thai Language | pattawan.p@verso.ac.th
Jack: Chinese Language | Math Lab 6 | jack.zhao@verso.ac.th
Graham: Music and Performing Arts | graham.baines@verso.ac.th
JC: 5-6 Cohort Leader | Explore Projects | jonathan.campbell@verso.ac.th
Ashley: 7-8 Cohort Leader | Math Lab 8 | ashley.d@verso.ac.th
Chad: Middle Loop Leader | chad.walsh@verso.ac.th
From 1:00pm - 3:00pm (more Labs/Workshops LDs teach) (Email the LD to make an appointment or just come by)
Traci: Literacy | traci.t@verso.ac.th (available after 2:20pm)
Maria: EAL | maria.pannakan@verso.ac.th
Arthur: Math Lab 5 | arthur.h@verso.ac.th
Jack: Chinese Language | Math Lab 6 | jack.zhao@verso.ac.th
Dex: Science Lab | Math Lab 7 | dex.d@verso.ac.th
Amy: Visual Arts | amy.p@verso.ac.th
Dan: Design Lab | dan.hyman@verso.ac.th
Pattawan: Thai Language | pattawan.p@verso.ac.th
Graham: Music and Performing Arts | graham.baines@verso.ac.th
JC: 5-6 Cohort Leader | Explore Projects | jonathan.campbell@verso.ac.th
Ashley: 7-8 Cohort Leader | Math Lab 8 | ashley.d@verso.ac.t
Chad: Middle Loop Leader | chad.walsh@verso.ac.th
☕pH7 Will be open for the day if you wish to grab a coffee and mingle with other parents.
We hope that these changes will help strengthen the Parent-LD connection, collaboration, and communication.
Below is an outline of the ConVERSO Appointments. :-)
20 minute Appointments
Community Time Groups ConVERSOs
Photo of the Week
We welcome our new C5-6 learner MJ (left) to VERSO and thank our community for welcoming her to our learning spaces!
Explore Project
Leadership, Presentation Skills, and Taking Ownership of their Own Learning.
All learners in C5-6 had to design, and then create a way to teach their families how to use Headrush so that parents may view and interact with their child's classes at VERSO. Joshua (G5) took it to the next level (see photo below) and decided to do an instructional presentation at home to ensure his parents knew how to use it. We feel that Joshua is definitely developing the confidence to lead his own journey. It's nice to see our young students become mentors for their parents! We will be hosting Parent Workshops on HeadRush on 8 September during our conVERSO day. Please see the timings shared above.
In Explore, students are working on their projects but also have the opportunity to upskill in the Workshop and in art class. In the photo below, Kru Amy is teaching the intricate skill of pencil sketching and shading which will help learners visualize and communicate their ideas.
By Jonathan Campbell
5-6 BTW Learning Lab

Yesterday, our C5-6 learners had an exciting BTW trip to a theme park, which provided a unique, effective, and creative way to learn about forces and interactions, sparking their curiosity and imagination.

Throughout the theme park, the scientific principles of streamlining, friction, gravitational forces, and simple machines were vividly demonstrated in the thrilling attractions. The sleek design of roller coasters showcases the importance of streamlining in reducing air resistance and optimizing speed, allowing learners to witness firsthand how aerodynamics influences motion. As they observed the brakes and mechanisms slowing down rides, the concept of friction became tangible, emphasizing its role in controlling speed and ensuring safety. Moreover, the towering rides exemplified the powerful effects of gravitational forces as learners experienced the exhilarating sensation of weightlessness during steep drops. Through hands-on interactions with mechanisms like pulleys and levers, learners grasped the mechanics behind simple machines and how they magnify or redirect forces. This dynamic educational adventure instills a lasting understanding of these complex scientific concepts, fostering a deeper appreciation for the intricate physics that shapes the world around them. Plus the fun that comes with going to a theme park, is an added bonus too!

By Arthur Hall
UBUNTU Confidence, Creativity & Communication

UBUNTU is a fun concept in the Middle Loop that offers an opportunity for learners to express themselves. Creatively expressing ourselves in front of a live audience builds community and confidence in speaking and presenting. Learners can sign up for UBUNTU and share their talents and interests.

Whether it be singing, dancing, playing an instrument, or a puppet show, learners develop a sense of belonging and purpose with music and performing arts. At the end of each quarter, we will have a VGT (VERSO's Got Talent) and invite the parents to be part of this - an excellent way for learners to shape their identity and express themselves.
Science Lab

In our science classes, the students have been delving deep into the topics of forces, motion, and energy. They've been actively engaged in research, ensuring they thoroughly understand Newton's three laws of motion. To aid their comprehension, they have employed the Feynman Technique, a method that encourages simplifying and teaching concepts to solidify understanding.
Following this foundational work, the students have transitioned to a hands-on phase where they are designing and building cars in our school workshop. This practical application of their theoretical knowledge is not only cementing their learning but also fostering creativity and practical skills.

By Alan Dexter
Spotlight Phop "The Drummer"

Phop has been learning a drum set and has submitted his video in a competition. We are very proud of Phop and thrilled that we can support his passion at VERSO!
EAL Coffee Morning

We had a great turnout for the EAL coffee morning. Thank you for joining us to learn more about WIDA, EAL support at school in terms of instruction and resources, and ways to promote reading at home. Maria will be in all EAL-related ConVERSOs next week to share more about the learners' English ability and how we are supporting their language acquisition. For parents who were unable to attend, please click here to access the EAL coffee morning presentation. Reach out to Maria if you have any questions around EAL at maria.pannakan@verso.ac.th .
That's the ML Muster for now - we wish you all a relaxing and enjoyable weekend!
See you all at conVERSO next Friday 8 September!
Best regards,
Middle Loop Team
---
Important Reminders
4 September: ASA begins
5 September: U18 Boys and Girls Basketball Match VERSO vs BCB @ Arena (3pm-4pm)
6 September: uniVERSOtea Morning with Greg Mason, Career and University Guidance Counselor
8 September: Lower Loop and Middle Loop conVERSOs
13-15 September: C7-8 Overnight BTW trip
26 September: Homecoming U18 girls and boys basketball games vs Lycée Français International de Bangkok (LFIB) 3:00pm-6:00pm @ Arena
27 September: Coffee Morning with Head of School
28 September: VERSO's Wai Kru Celebration (Teacher Appreciation Day)
6 October: C7-8 Learning Lab Showtime
Important Links
---
RELATED POSTS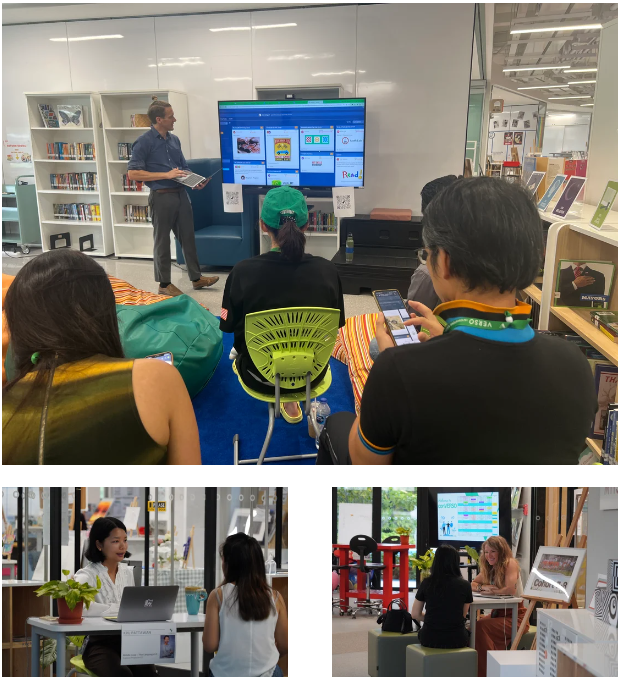 By Chad Walsh / September 15, 2023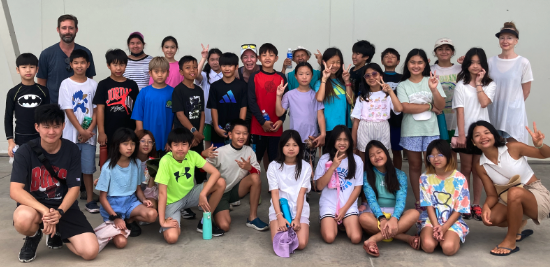 By Chad Walsh / August 18, 2023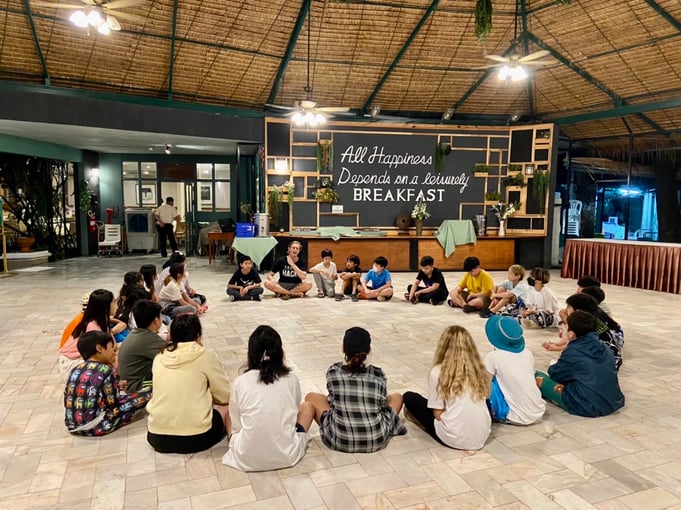 By Chad Walsh / June 23, 2023