VERSO HACK 2022: Three exhilarating days of learning, building, and sharing
Over 80 students gather for a unique opportunity to solve real-world problems while gaining new future-ready skills
Congratulations to all our participants for joining VERSO HACK 2022, where over 80 students aged 13-18 from schools across Bangkok participated in a 3-day entrepreneurial hackathon. Teams were tasked with ideating, prototyping, and pitching a startup to respond to their challenge statement: "How may we reimagine the future of food?" either through the themes of production and packaging, consumer behavior, or alternative food sources. They had to address how food is produced, packaged, reduced, and/or recycled. This included using plant-based protein, reducing plastic use, promoting composting, and any other topic students could identify at home, school, and in their community.
A hackathon is designed to foster an entrepreneurial mindset amongst students and to encourage them to solve real-world problems. All fundamental skills are taught to them on-site to ensure they have a great learning experience and develop skills that the best entrepreneurs in the world have!
As a future-ready school, VERSO aims to become a hub for innovation and a home for young entrepreneurs, and hackathons are just one of the many ways to cultivate this positive entrepreneurial learning experience.
This is the second year of VERSO HACK 2022, after a highly successful launch event last year, in collaboration with Singapore-based Reactor School that designs and develops Entrepreneurship Education (EntreEd) programs for students, helping to turn their ideas into projects, and their projects into companies.
Students at VERSO HACK 2022 had access to Masters or mentors, and judges, comprising startup founders, experts, entrepreneurs, innovators, and investors, who were armed with a wealth of experiences, knowledge, and skills, to coach and mentor our future entrepreneurs to support them with their pitches, give feedback on their ideas and prototypes, challenge them, and answer any questions they have.
On day 1, students met on Gather.Town, a new, fun, and interactive virtual experience where they formed teams and worked on their challenge statement. To provide more context and inspiration to the students were two speakers, Gavriel Tan, Co-founder and CEO of Singapore-based Altimate Nutrition, a company that converts insects into food products for humans, and Kanwra Thanachotworaphong (Minnie), CEO and Co-founder of More Foods Innotech, who shared their inspiration and journey in becoming startup co-founders and the impact of their business on society.
Moving to day 2, students met on site at VERSO International School to start the day with some ice breaking activities before getting into their groups to navigate and discuss how to turn their ideas into reality. In addition to the course materials provided by Reactor School, there were optional workshops on Designing Solutions, Prototyping, Validation, Business Models, Pitch Deck, Pitching, and Answering Q&A for students to join.
With support from Reactor School's on-ground facilitators, Masters, and VERSO coaches, students went on an innovation journey, creating mock-ups, digital prototypes of websites, mobile apps, and even used a drone to demonstrate their food delivery service solutions. On the final day, the students took center stage and presented their final presentation in front of a number of prominent judges from the tech and startup ecosystem.
All our mentors and judges were impressed by the high level of passion, creativity, and confidence that the students displayed during the pitches and demo. They also emphasized the importance of developing these important skills at a young age,
"The students are very talented and incredibly intelligent, even smarter than some adults I know! They are organized and have incredible ideas," added Sakson Rouypirom, CEO and owner of Broccoli Revolution and director of SATI, one of the mentors at the event.
"I can sense a lot of passion from the students and they have such interesting business models. They asked a lot of good questions, have a growth mindset, and can find innovative solutions - we sure do have some changemakers here at VERSO! " shared another mentor, Patompong Deepunya, CEO & Co-founder of Dezpax.
"I think VERSO HACK is a wonderful experience for the students and I can't imagine myself doing this at the same age as them. As an entrepreneur, I think these are the skills that the students should learn at a young age as it will be useful for them in the future. The students' presentations were even better than some university students I teach, which is why I had to ask tough questions and they were still able to answer them very well!" said Saijai Pongsripetch, Corporate Strategy Associate at Reapra, who joined the judging panel.
Ninth-grader Varit shared that the hackathon was fun and an exhilarating experience for him.
"I have learned so much. I learned how to properly pitch to investors, how to start a business and how to structure our user interviews. VERSO HACK is a good opportunity for aspiring entrepreneurs and a cool way to make new friends and learn a variety of skills that can be applied in the real world."
Hilight, an 8th grader said the highlight of the hackathon was the opportunity to meet like-minded friends from different schools, collaborate in teams, and hear different perspectives.
"I also got to pitch live to judges and mentors for the first time and learned so much from their meaningful feedback."
We are thrilled that VERSO HACK 2022 was a positive learning experience for all participants as they spent three days collaborating, communicating, thinking critically, problem-solving, networking, and building resilience - skills they need to be ready for the future and that will prepare them for the jobs of the future.
We look forward to providing more challenging and future-ready learning experiences and to welcoming more students to our next VERSO hackathon. We can't wait for next year's event which will be an even bigger and more incredible event!.
RELATED POSTS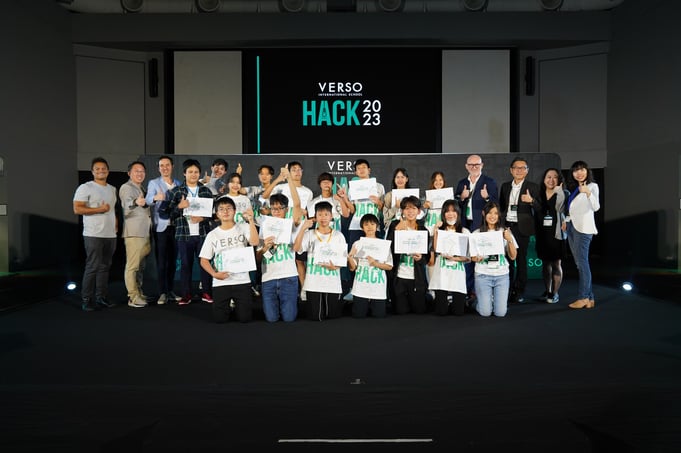 By Kittima (Tinny) Kaur / March 16, 2023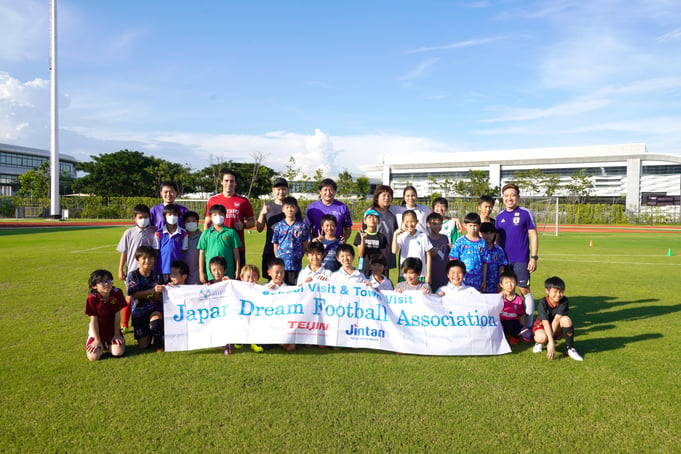 By Kittima (Tinny) Kaur / December 08, 2022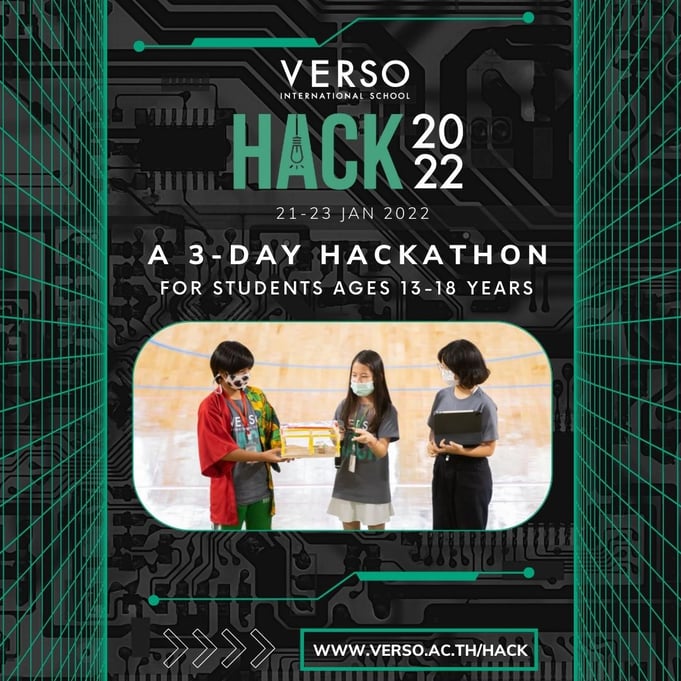 By VERSO Communications Team / April 07, 2022